1
Review: BETTY & VERONICA SPECTACULAR VOL 01 TP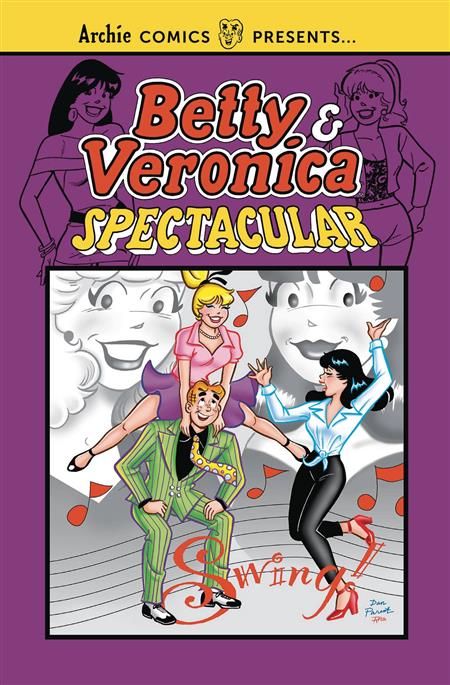 While I was hoping that this collection might start out by reprinting the older ARCHIE GIANT SERIES issue numbers which fell under the B&V Spectacular title logo - begininng with #11 (June 1961) and ending with #632 (July 1992), which was in fact the final issue of the entire AGS run - it actually begins with the #1 issue cover-dated October 1992. After the cancellation of the Archie Giant Series, it was replaced by a number of different ongoing titles, all of which had previously appeared under the AGS numbering.
World of Archie
and
Betty and Veronica Spectacular
were initially published quarterly, which was approximately the same schedule under which the titles had appeared in rotation under the AGS numbering. The other two titles (
Archie's Christmas Stocking
and
Betty and Veronica Summer Fun
) were published annually.
WORLD OF ARCHIE #1 (August 1992) - #22 (March 1999)
BETTY AND VERONICA SPECTACULAR #1 (October 1992) - #90 (September 2009)
ARCHIE'S CHRISTMAS STOCKING #1 [48-Page Giant] (November 1993) - #7 (November 1999)
BETTY AND VERONICA SUMMER FUN #1 [48-Page Giant] (July 1994) - #6 (July 1999)
Of the four ongoing titles born out of the former Archie Giant Series, B&V Spectacular was by far the most successful, lasting seventeen years - ten years longer than the other three titles. Just for reference, here are the issue numbers of the Archie Giant Series which were
Betty and Veronica Spectacular
issues:
11 21 26 32 [here the AGS title jumped 100 issue numbers]
138 145 153 162 173 184 197 201 214 221 226 234 238 246 250
[here the AGS title jumped another 200 issue numbers] 458 462 470 474 482 486 494 498 501 506 510 518 522 526 530 537 541 548 552 559 563 569 575 582 588 595 600 608 613 620 623 632
Okay, with that preamble out of the way, this is a pretty good collection. Compared to the previous volume in the "Archie Comics Presents..." series, ARCHIE AT RIVERDALE HIGH, which attempted to compile stories from issues #1-33, BETTY & VERONICA SPECTACULAR VOL 01 TP only reprints stories from issues #1-11, so it is far more complete. The JUGHEAD'S TIME POLICE and COSMO trade collections were indeed "complete" in the truest sense, even reprinting the covers of the issues whose stories were contained therein. Here, unfortunately, we don't get the covers (which is a shame, because for the most part, they are great covers). However, we DO get MOST of the stories from issues #1-11 reprinted. Here's a listing of the contents of Volume 1 (number of pages follows the story title):
#1 Run For Glory 22
#2 This Looks Like A Job For Sugarplum! 21
#3 Genie Hi-Jinx 11
#3 BETTY in "The Big Slice" 1
#3 Flee This Market 5
#3 "Clothes" Minded! 5
#4 Fashion Fiasco 11
#4 Go Fly a Kite 5
#4 Triangle Trouble 5
#5 Wiener Wars 11
#6 Princess and the Pauper 11
#6 Chances Are... 5
#7 Love Notions 11
#7 Jersey City 07303 5
#7 Too Much Infomercial 5
#8 Fitness Fiasco 11
#8 Moody & Snooty 5
#9 Look Who's Watching 11
#9 Paper Route 5
#9 Yard Sale Of The Century! 6
#10 Here's Sand in Your Face 11
#10 S'more Trouble 5
#10 Vests For All Occasions (Veronica fashions) 1
#10 Boxer Boom! 5
#11 Teacher Torture 11
#11 Picture This! 5
#11 The Prodigal Daughter 5
Just to see what didn't get reprinted from those issues, I consulted the Grand Comics Database. Here's what's missing from those issues (excepting ads, letters pages, editorial pages, and puzzle pages):
#1-11 covers
#3 BETTY's Fantasy: The Music Maker (pin-up) 2
#5 No Contest 5
#5 The 60's In The 90's (B&V fashions) 1
#5 Opposites Detract 5
#6 A Fowl Scent 5
#6 Hot Roddin' in the "Fifties" (pin-up) 1
#8 Hold the Phone 5
#9 Rad Fad 1
So essentially, what BETTY & VERONICA SPECTACULAR VOL 01 TP contains is "almost" the complete contents of issues #1-11 of that title, with the exception of all the covers and 25 pages of other stories or features. It could have been a little more perfect, but given that they had to fit it into a 224-page trade collection, not bad. If I had been the editor, I'd have left issue #11 for Volume 2, and reprinted the four 5-page stories from issues #5, 6 & 8 that they skipped, plus a 1-page feature. Or the two best 5-page stories, plus all 10 covers from issues #1-10. But that's me. All in all, not too bad. I rate it a "buy".
One small irksome point. There is a 1-page text introduction which had me wondering whether the (uncredited) writer of that page even read the stories in this collection. Said writer claims in the intro that
"As time went on, the series introduced a few new female characters - one of which you'll see in this particular collection is Sugarplum, the teenage daughter of Santa Claus"
.
Okay, that's just plain wrong on two counts. Apparently the writer confused Sugar Plum with Noelle Claus (the teenage daughter of Santa Claus), a much later Dan Parent creation. They're two entirely different characters. And B&V Spectacular did NOT introduce the character of Sugar Plum (seen here in a story from B&V Spectacular #2, "This Looks Like A Job For Sugar Plum!", which is in fact her
fourth
appearance). Her FIRST appearance was in ARCHIE GIANT SERIES #580 (January 1988), which wasn't even a B&V Spectacular issue of AGS... it was a BETTY AND VERONICA CHRISTMAS SPECTACULAR (a separate annual title) issue. You wouldn't necessarily have to
know
these details to realize that Betty and Veronica Spectacular #2 wasn't Sugar Plum's first appearance -- all you'd need to do is read the story. In the first panel of that story, where Sugar Plum appears, it's obvious that Betty and Veronica already know her. Since she wasn't in the previous issue of B&V Spectacular, it's easy to deduce that she
couldn't
have been introduced in that series. That makes the writer of the introduction look pretty dumb, even to a 10 year-old kid of average intelligence.